I've been cleaning my butt off the last 24 hours and I'm unbelievably exhausted to the highest extent but very pleased that my house is in order, my laundry is done, and my list are made up so I can breathe a sigh of relief.. well besides having to write out old/new photo shoot ideas/poses, wash my car and car seats, hang up new photos, organize to photos to give to grandmas/mamaws and in my album and to finish off the last 4 pages on my scrapbook I just worked on a few weeks back and of course the mommy/wife deal and to somehow manage a good shower somewhere in there (somewhere). I finally finished editing photos and made collages for the last three and cds for two of them so far and I LOVED them :-). I swear I'm as bad as my kids (or they are as bad as me) I can't go all day without a nap or caffeine or I feel like death ran over x10 then one more time.. ugh it drags especially when I want to finish everything in a 24 hour period and it be PERFECT so I can visit my mamaw tomorrow, go shopping Friday for the kids spring/summer clothes, and enjoy a weekend with 1-2 shoots and possible go underground (in the mines) for the first time with my husband which I will definitely get a throw away camera to take photos since I would never take my nice, new camera in there to get it all dirty and yucky but I'm very nervous/scared too because I don't like situations I can't control and going down a huge elevator with the fear of it falling to my death or something drastic happening and being stuck down there but I don't think negative now do I?!? I can't wait either way! I really need to take the kids out tomorrow either here or my mamaws and get some good sunlight for them and me and take more photos that I'm slacking on since I'm busy with shoots (bad mama)! I noticed some spring flowers starting to pop up which overly thrills me since I can't wait to get my under experienced green thumb out and plant me some new annual flowers and enjoy nice warm days with the kids outside and them running off their never ending energy I wish I had bottled up for myself to take everyday but enough with my ramblings I will show my wordless (not so much) Wednesday photos now and of course my black and white photo too!!!



I have to say I'm in the love with the coloring, focus, and clarity my camera/lens gives prior to editing though this is the after effect of editing.




sweet, funny, quiet face :O shocking in my home!




Ok mom I'm done with photos so I'm covering my face HAHAHAH :-(!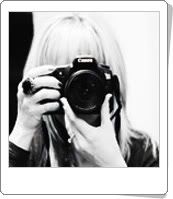 {one} do you wear holey jeans? if so, do you buy them that way?


Yes I do I love them with holes but I love regular jeans and especially skinny jeans because they make you look skinny I think lol.




{two} do you get a full 8 hours of sleep per night?

depends I'm a night owl so I go to bed at 2-3am and wake up at 7-8am but I wish I could go to bed at 10 so when I do get up that early it's not so hard every freaking time!




{three} what's your favorite way to eat an oreo?

I dunk it until its soft and eat it.. oh but they are sooo bad but sooo good :\




{four} do you wear shoes in your house?

nooooooooooooooooo!!!!!




{five} who would you call first if you won the lottery?

My husband, my mamaw and dad, and then ryans family and Leah my sil.




{six} have you ever been in a food fight?

no




{seven} do you snore?

I've probably have before I don't regularly though.




{eight} do you know how fast you type?

I don't know I can type fast but it isn't always accurate I usually think in my head and just type and usually don't pay attention until later then I'm like dang I typed that wrong, and that, oh and that too!




{nine} can you do a headstand (without using a wall)?

uh I prefer to be standing upward.




{ten} how do you like your popcorn?

buttery and saltyyyy goodness