Tomorrow I will be busy taking Colton to school, running by my mamaws, getting groceries alone, signing Colton up for kindergarten and possible tball, putting up groceries alone, making new lists for the next week or two, making supper, working out, and then tanning. Hopefully I will accomplish all of this because so far the 1st week of day shift has been lazy because I dislike dayshift since I'm far from a morning person and love 2nd shift because I get so much more done. We will see though..

Nature-


Flowers and natural sunflare. I love the softness and bright light from the sun!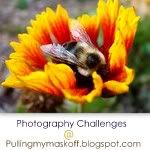 Before-



After-


I really like bright, natural colors that make a photo pop for some reason.



Pastel-


Hope this works?



Dof-



Midweek blues-


blue eyes, funny face :-)!



Happy photos-


Love them and the flowers ;-)!

Sausage or Bacon?
Bacon and I really like turkey bacon. It's healthier and doesn't taste as fatty.

Have you ever been water skiing?
No. I have water fear!